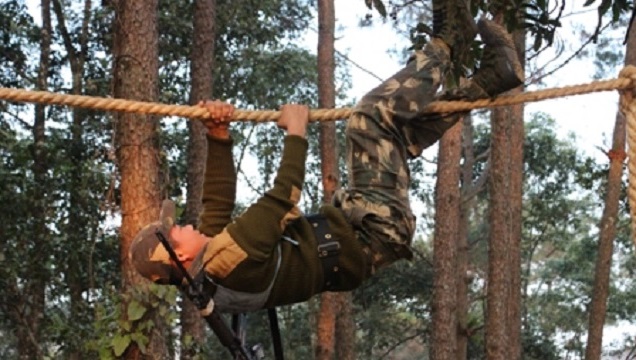 OBJECTIVES
1. To impart one year basic training to the directly recruited Deputy Superintendent of Police and Sub Inspectors of North Eastern States.
2. To make the trainees understand the prevailing socio-economic situation and law & order issues confronting the police in their state and to teach the officers about their ideal role in the context of policing.
3. To give an overview of the constitutional scheme of fundamental rights.
4. At the end of the training,the trainees should have working knowledge about the administrative structure of the government and different wings of the police department.
5. To equip the trainees with the art of scientific and legal investigation. At the end of the training the officer should be able to feel confident to undertake investigation of crime independently.
6. To make the Officers understand as to how the scientific techniques available can be used in the investigation of crime.
JOINING INSTRUCTIONS
| | |
| --- | --- |
| Joining Instructions for 53rd Basic Course. | Click Here |
| Joining Instructions for 52nd Basic Course. | Click Here |
Syllabus for Basic Course
Ongoing Basic Course
| Sl No. | Course Name | Opening | Total | Total Trainees Trained |
| --- | --- | --- | --- | --- |
| 1 | 52nd Basic Course | 15/11/2022 | 402 | |
BASIC COURSE - AWARDS WINNERS DETAILS
ROLL OF HONOUR ALL ROUND BEST TRAINEE BASIC COURSE DYSP
| Sl No. | Course No | Rank | Name | State | Year |
| --- | --- | --- | --- | --- | --- |
| 1 | 1st | DySP | J. Bagra | Arunachal Pradesh Police Service | 1981-82 |
| 2 | 40th | DySP | Rukulu Tunyi | Nagaland Police Service | 2014 |
| 3 | 41th | DySP | Banraplang Jyrwa | Meghalaya Police Service | 2015 |
| 4 | 42thst | DySP | Rike Kamsi | Arunachal Pradesh Police Service | 2016 |
| 5 | 43rd | DySP | Dr. V B Rajkamal | Andhra Pradesh Police Service | 2017 |
| 6 | 44th | DySP | Thokchom Heeraj Anand | Manipur Police Service | 2018 |
| 7 | 46th | DySP | Sentiwapang | Nagaland Police Service | 2019 |
| 8 | 48th | DySP | Rishi Longdoh | Arunachal Pradesh Police Service | 2020-2021 |
ROLL OF HONOUR ALL ROUND BEST TRAINEE BASIC COURSE SI
| Sl No. | Course No | Rank | Name | State | Year |
| --- | --- | --- | --- | --- | --- |
| 1 | 1st | SI | G. Pertin | Arunachal Pradesh Police | 1982 |
| 2 | 2nd | SI | M. S. Yadav | Arunachal Pradesh Police | 1983 |
| 3 | 3rd | SI | A. M. Jamir | Nagaland Police | 1984 |
| 4 | 4th | SI | B. Gurung | Mizoram Police | 1984 |
| 5 | 5th | SI | N. Kalita | Arunachal Pradesh Police | 1985 |
| 6 | 6th | SI | S. Dey | Tripura Police | 1986 |
| 7 | 7th | SI | D. K. Guha | Tripura Police | 1987 |
| 8 | 8th | SI | P. Debnath | Tripura Police | 1988 |
| 9 | 9th | SI | M. K. Rambhadran | Arunachal Pradesh Police | 1989 |
| 10 | 10th | SI | M. Singh | Arunachal Pradesh Police | 1990 |
| 11 | 11th | SI | L. Nongpluh | Meghalaya Police | 1991 |
| 12 | 12th | SI | T. S. Jamir | Nagaland Police | 1992 |
| 13 | 13th | SI | J. Nath | Tripura Police | 1993 |
| 14 | 14th | SI | J. Das | Tripura Police | 1994 |
| 15 | 15th | SI | M. S. Biswas | Tripura Police | 1995 |
| 16 | 16th | SI | Raplang Suting | Meghalaya Police | 1996 |
| 17 | 17th | SI | I. Lollen | Arunachal Pradesh Police | 1997 |
| 18 | 18th | SI | J. Konyak | Nagaland Police | 1998 |
| 19 | 19th | SI | Zarzokima | Mizoram Police | 1999 |
| 20 | 20th | SI | S. K. Pradhan | Meghalaya Police | 2000 |
| 21 | 21st | SI | K. Yeptdo | Nagaland Police | 2001 |
| 22 | 22nd | SI | K. Dinesh Kumar | Manipur Police | 2002 |
| 23 | 26th | SI | Krishnandu Dev | Arunachal Pradesh Police | 2004 |
| 24 | 27th | SI | Chewang D. Bhutia | Sikkim Police | 2005 |
| 25 | 28th | SI | Mosa Zeliang | Nagaland Police | 2005 |
| 26 | 29th | SI | Bibhas Ranjan Das | Tripura Police | 2006 |
| 27 | 30th | SI | Yogarj Gautam | Meghalaya Police | 2007 |
| 28 | 31st | SI | Gallant Kharumnuid | Meghalaya Police | 2007 |
| 29 | 32nd | SI | B. Marbaniang | Meghalaya Police | 2008 |
| 30 | 33rd | SI | K. Dominique | Nagaland Police | 2008 |
| 31 | 34th & 35th | SI | S. S. Lywait | Meghalaya Police | 2009 |
| 32 | 36th | SI | Olivia Asem | Manipur Police | 2010 |
| 33 | 37th | SI | T. H. Sharda Devi | Manipur Police | 2011 |
| 34 | 38th | SI | Anupa Gurung | Sikkim Police | 2012 |
| 35 | 39th | SI | Sitoshna Sharma | Sikkim Police | 2013 |
| 36 | 40th | SI | Amum Panyang | Arunachal Pradesh Police Service | 2014 |
| 37 | 41st | SI | Benhanan Sahkhar | Meghalaya Civil Defence & Home Guards | 2015 |
| 38 | 42nd | SI | T Jongsen | Nagaland Police | 2016 |
| 39 | 43rd | SI | Keyileuting (Inspector) | Nagaland Excise | 2017 |
| 40 | 44th | SI | Bobby Sumanyan | Arunachal Pradesh Police Service | 2018 |
| 41 | 45th | SI | Ricky Phawa | Meghalaya Police | 2018 |
| 42 | 46th | SI | Mohammad Rizwan | Meghalaya Police | 2019 |
| 43 | 47th | SI | Er. James Kikon | Nagaland Police | 2020 |
| 44 | 48th | SI | Shuvam Nongrum | Meghalaya Civil Defence & Home Guards | 2020-2021 |
| 45 | 49th | SI | Rahul Das | Tripura Police | 2021 |
| 46 | 50th | SI | Baharul Islam | Assam Police | 2021-2022 |