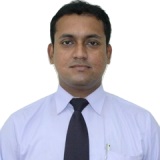 Shri. Debaditya Roy
Designation

: Assistant Director(Police Science)
Email Id

: debadityaroy dot 1983 at gmail dot com
Educational Qualification

:
Completed LLB 5yrs integrated course from University of North Bengal,2006.
Completed Certificate course in Cyber Laws from Asian School of Cyber Laws,Pune through online.
Working Experience

:
Practised as an enrolled Advocate in Bar Council of West Bengal at th District & Sessions Court, Jalpaiguri,West Bengal from May 2006 - Sep 2008.
Practised as an enrolled Advocate at Calcutta High Court from Sep 2008 to Feb 2011.
Worked as Assistant Officer(Legal) in Bengal Chemicals & Pharmaceuticals Limited,Kolkata(A Govt. of India Enterprise) from 2011-May2012.
Wored as Deputy Assistant Director(Police Science) in North Eastern Police Academy w.e.f June 2012.
Worked as Guest Faculty in Sikkim Judicial Academy,Wildlife Crime Bureau,Ghy and Central Forest Training Academy,Burnihat.